News
Batteries are the basis for the mobility of the future - Our Circular Battery Project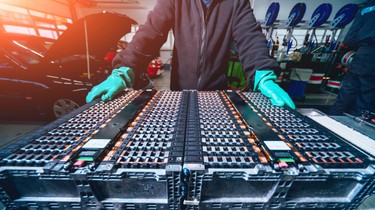 © Adobe Stock / romaset
Sustainable vehicles and batteries are the basis for the mobility of the future. Reliable and functioning recycling of traction batteries represents a central aspect for more sustainability in the emerging battery value chain for electromobility, as the increase in battery scrap and end-of-life batteries will rise sharply in the coming years.
According to Fraunhofer ISI calculations, the amount of batteries to be recycled in Europe will reach 420 kilotons in 2030 and 2100 kilotons in 2040. Currently, the majority of battery material which needs to be recycled still comes from battery production scrap. However, in the future, large quantities of end-of-life batteries from passenger cars will make up the main share.[1]

In order to keep the environmental impact of this large quantity of traction batteries needed as low as possible and to be able to recover important raw materials at the end-of-life process, it is crucial to establish functioning and resilient circular battery value chains in Europe.
In so-called multi-stakeholder projects, CIRCULAR REPUBLIC brings together established companies and innovative start-ups to jointly create scalable circular economy solutions for the transformation of value chains. The aim is to set up application-oriented projects or spin-off companies. In this context, CIRCULAR REPUBLIC acts as a neutral incubator and project orchestrator:
The multi-stakeholder project on traction batteries for cars/trucks aims to develop circular solutions for future battery value networks. CIRCULAR REPUBLIC is working with selected companies and innovative start-ups to develop circular solutions and jointly implement them - both in the pilot stage and for scalable commercial solutions. Innovative battery start-ups such as tozero (battery shredding & hydrometallurgy), LiBcycle (reverse logistics) and STABL (second-life applications) play a crucial role in this context, as they address the breaks in today's linear system and can therefore contribute to truly closing the loop.

Through various workshops and working groups, the first steps for the circulation of traction batteries were developed together. In summer of 2023, several tons of used traction batteries will be passed through a reuse and recycling system to test a circular end-to-end pilot process - ideally with all participating companies will play a role in this process. Through the neutral incubation and orchestration approach, CIRCULAR REPUBLIC assumes a coordination and steering function and moderates between the project partners. An application and implementation-oriented approach ensures that the Circular Battery Project will achieve the testing and realization of the circular pilot process as quickly as possible.
In summary, participation in the Circular Battery Project of CIRCULAR REPUBLIC results in the following advantages for companies, among others:
Rapid learning and development of closed-loop solutions and innovations for the battery value creation process through a start-up-like approach
Collaboration with leading circular economy start-ups out of the battery business field
Active role in the restructuring of the value creation network and positioning as a circular innovation leader
Get in touch with us
If you are interested in more in-depth discussions about this project or other CIRCULAR REPUBLIC projects, we would be happy to hear from you.
Dr. Matthias Ballweg
Dr. Susanne Kadner
Niclas Mauss
Subscribe to CIRCULAR REPUBLIC's Newsletter
[1] Fraunhofer Institute for Systems and Innovation Research ISI, Battery Update, January 2023.